Norway: An Overview
Norway
Kongeriket Norge or the Kingdom of Norway comprises 40% of the western fraction of the Scandinavian Peninsula. It has a total area of 324,220 square kilometers, five percent of which is water while about 70% is covered by moors, mountains, and glaciers. The Arctic Circle roughly divides the north and south of Norway and is bordered by Finland, Sweden and Russia in about 2,500 kilometers. Norway has an elongated shape, with significantly 2,650 kilometer-long coastline, of which some 50,000 islands can be found.
The climate is generally temperate because of the North Atlantic and the Norwegian Current warming air temperature. The north area has an average temperature of -1º Celsius and more than 7º Celsius on the south during January. The coastal regions experience milder winters although generally, the temperature of the country has been higher in recent years. Inland temperature drops below -18º Celsius during winter while during the summer, temperature averages 16º Celsius.
Population of Norway as of 2001 totals 4.5 million. Characterized by ethnical homogeneity, the Sami and Kvaener (people of Finnish origin) are regarded as the main minority groups, yet a number of Britons, Pakistanis, Americans, Danes, Swedes and Iranians live in the country.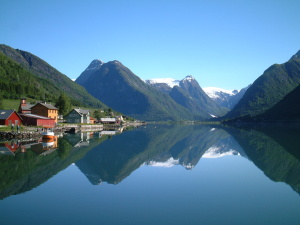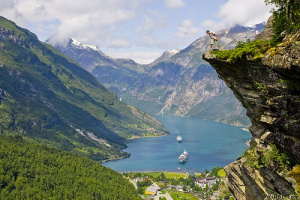 History of Norway
Norway was first inhabited by humans after the last ice age, yet was only able to permanently settle during the late Stone Age of 5000-1500BC. Population diminished around 500 AD but grew fast during 800 AD. The Viking Age followed which was then characterized as a centrally ruled nation dominated by Knut the Great of Denmark which at the same time got hold of England. Norway was recognized as an independent European country shortly after King Knut died in 1035. Magnus, the new king gained more territory but was devastated by 'Black Death' which killed over one third of its population. These events are followed by the Union of Kalmar and Norway became under the rule of Denmark. Monarchy was inherited while more and more people desired for independency in Norway. King Frederik VI then sent a viceroy and decided to finally release Norway to Sweden.
Against Norwegians' protest to the terms of Sweden, Norway was able to gain independence from 1905 to 1940, protecting its territory and setting significant component to labor parties. The Germans invaded after this period, continuing its struggle in the Narvik after the three-week fight in south Norway. In 1945, Germans had finally given up Norway, liberating Norway to June the King.
Years after, Norway's joining the European Union became a question, creating problems from administration to administration. Norway then refuses to be part of the European Union until now; however, Norway adopts the EU legislation as a participant to the European Economic Area.
Language and Education in Norway
Bokmål and Nynorsk are the two official languages of Norway, similar to both Swedish and Danish, and are used in schools, radio and television as well as in churches and public administration. Hovedmål is the primary language while sidemål comes as secondary, yet both are considered as official teaching languages. Other minority languages are that spoken by Kvæner and the Sami.
Norway has a free education system and is considered compulsory until the age of 16. Universities require completion of upper secondary program which usually takes three years. They impose no tuition frees for higher education although some private institutions may charge for special education programs.
Norway Economy
Although only a small area is dedicated to agriculture, Norway manages to profit high from its resources and give allowances to farmers. Mining is primarily for lead, nickel, zinc, copper, iron as well as mineral oil and natural gas. One fourth of the nation's gross product comes from the industries, employing 23% of the labor force. Nitrogen and aluminum are Norway's important industry products while fish exports become a growing venture for the people.